Touch up Paint (Spray can)
This touch up paint is to keep your notice board looking new and fresh for longer. Available in Ral 9005 Black Satin and Gold. £10 per can.
How To Guide - Configure Your Information Board
Choosing Your Notice Board
Your choice of Notice Board will be determined by the below.

There are 5 simple steps to building your own bespoke notice boards, please see below.
The amount of information you wish to display
The amount of space you have available to site your Notice Board
Picking the size of Notice Board, you require by the viewing area size based on our standard sizes. Please use our guide based on a A4 size as an idea. For example: Panel size 100cm high x 80cm wide. The viewing area is 84cm x 64cm which will display 9 A4 documents.
Backing Board Sundela with pins or Metal panel powder coated supplied with magnetic ons (this is new and our preferred option).
At this point if you require more display area and space is an issue you can consider the below. A double-sided panel. Top opening doors (this option is only available on panels up to 140cm in width). See chart for options.
We are more than happy, if our standard sizes do not suit your requirement, to design one that will.
1: Choose Your Notice Board Opening
Door are fitted with brass hinges and attached using counter sunk brass machine screws and can either be fitted with free opening doors or lockable with cam locks for added security. The real beauty of our systems and means of production is that you can have the combination you really want.
Single or double opening available on all panels and hung side or top up to 140cm over only side available.
2: What Size Do You Need?
| Height | Standard Width | Viewing Area | A4 Capacity |
| --- | --- | --- | --- |
| 100cm | 80cm | 1 Door - Viewing area 84cm x 64cm | 9 |
| 100cm | 100cm | 1 Door - Viewing area 84cm x 84cm | 12 |
| 100cm | 120cm | 1 Door Top Hung - Viewing area 84cm x 104cm | 12 (with margin) |
| 100cm | 120cm | 2 Door - Viewing area 84cm x 46.5cm | 12 (with margin) |
| 100cm | 140cm | 1 Door Top Hung - Viewing area 84cm x 124cm | 15 |
| 100cm | 140cm | 2 Door - Viewing area 84cm x 56.5cm | 15 |
| 100cm | 160cm | 2 Door Only - Viewing area 84cm x 66.5cm | 18 |
| 100cm | 180cm | 2/3 Doors Only - Viewing area 84cm x 76.5cm | 18 |
| 100cm | 200cm | 2/3 Doors Only - Viewing area 84cm x 86.5cm | 24 |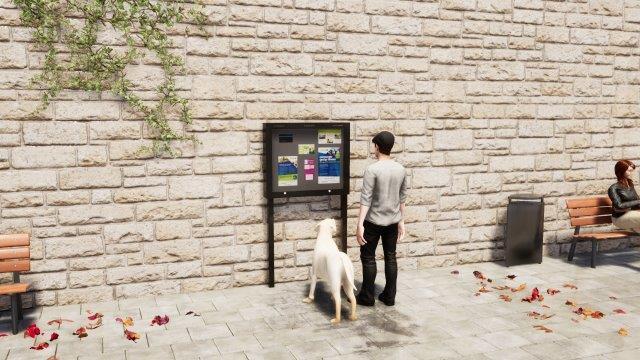 3: Choose Your Headboard
Headboards are designed bespoke to your requirements and are 5mm aluminium back plates with 2mm text.
Using CAD we can programme any shape of headboard, artwork, borders, text, font style etc. The design is then sent to you via email for approval.
We are happy to adapt your designs or artwork which we can accept in DWG or DXF formats. Artwork to be printed should ideally be sent in high resolution, a minimum of 300 DPI.
Standard Designs
Vinyl text/artwork applied to powder coated headboard
Raised text-borders in 2mm aluminium and powder coated
Highlighted text/borders in enamel painted by hand on powder coated headboard
Artwork disc printed onto vinyl mounted behind 6mm polycarbonate with polished edge inserted and bonded into laser cut aperture. Although our standard is a 15cm disc other designs and shapes can be produced. Artwork disc available on the Chatsworth, Rutland and Belvoir.
4: Choose Your Post Design
Posts are manufactured from 6.25mm wall aluminium tube with a 6mm connecting bracket and 3 designs. All posts can be highlighted in enamel paint hand painted or powder coated ie gold/silver to match highlights on headboard.
Shear Technology
All designs can be fitted with shear technology. Designed along with the highways agency to shear on impact if hit by a vehicle.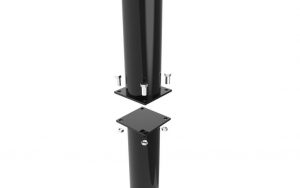 Square Post
75cm x 75xm
250cm A/O length
Round Post
90cm
250cm A/O length
Decal Post
90cm top half, 140cm bottom half (mid collar profile)
250cm A/O length
Start Now
Now you've seen how we create our Notice Boards it's time to build your own! Click on the button below to start your configuration.
Configure Yours
Interested In This Product?
Should you require additional information or further assistance please give us a call on 0115 989 4922 or fill in our contact form.